Chaos in the Maui Channel
On Saturday, September 3rd, I participated in the 2011 Maui Channel Swim - a 10 mile open water race between Lanai and Maui: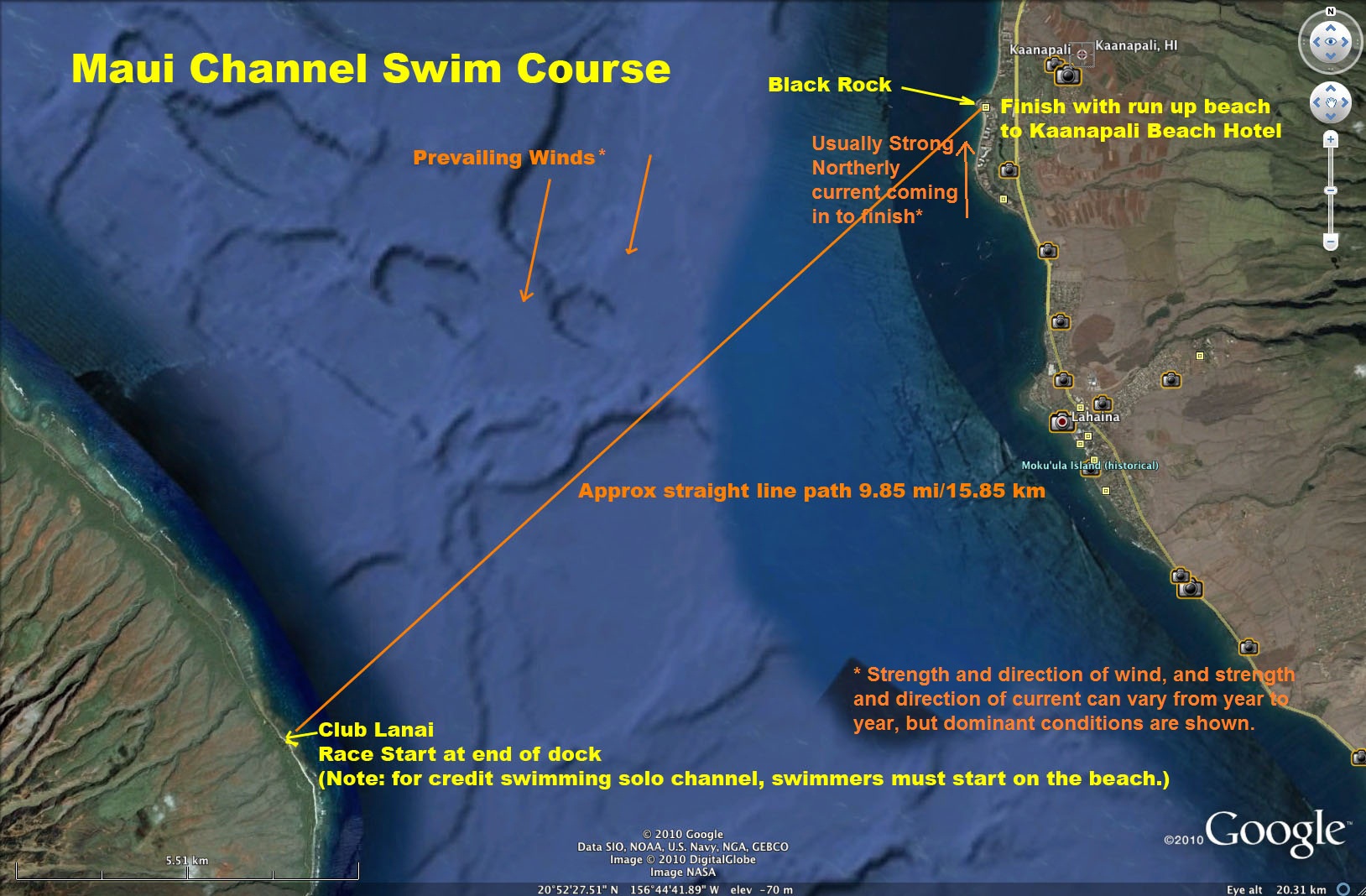 This is an annual organized event, swum by 20 solos (including myself) and ~70 relay teams of 6 people each. Each team (or solo swimmer) has a dedicated escort boat to guide them across the channel and to be there in case something goes wrong. My boat was captained by "Norm" and Caroline rode with him to support me. The water is in the high 70s, so no wet-suits are allowed. On a good day, the winning times are < 4 hours, and most teams finish within the cutoff of 8 hours. I was well-trained, well-focused, and pumped for the event.
But on race day, not everything went according to plan! Winds of 15-20 knots made for choppy conditions, even by 8am for the start of the race. Rough water makes the swim a bit harder, but the real concern is safety, primarily because boat drivers have a hard time seeing swimmers in choppy water. My own escort boat didn't find me until I was a mile off shore. Here's a video of me less than an hour into the swim, to give you an idea of what it was like.
Tragedy struck this year when a swimmer was hit by an escort boat near the finish line of the race, resulting in life-threatening injuries. This was really a shame, and I hope that either some policy can be put into place to prevent this type of accident from happening again, or that the event is just called off in the future. It makes the whole event not worth while. I hope his rehabilitation is as quick and smooth as possible, given the circumstances. In a completely separate incident, another one of the escort boats reportedly sank near the start of the race. Swimmers and supporters on board had to abandon ship, and thankfully other escort boats in the area saw what happened and took them on. According to the race organizers, there has only been one other safety incident (also involving a boat) in the race's history. I didn't witness any of these incidents first-hand, so I can't speak to the causes directly. 
As you can see in the video above, Norm's small (~15 ft) boat wasn't able to ride in a straight line next to me as planned, and it was almost impossible to communicate with him over the sound of the wind, the white-caps, and the engine of the boat. Instead of navigating by staying near the boat, I was navigating by the sun, which was the only thing I could reliably see over the waves! ;-) Nevertheless, 3 miles into the race I was on course and on pace to finish in around 4 hours. 
And then I saw something in the water. At first I thought the faint circular shape underneath me was a jellyfish, so I took an abrupt stroke to the side to avoid it. It didn't seem to move at all and I realized it was much farther away and much larger than I initially thought. Maybe it was a rock on the ocean floor - after all, visibility in the area was ~100 ft. As it came into focus I saw that it was a tiger shark, and it was heading right at me! The shark continued to swim right up at me and probably came within 10-20 ft from me before turning to the side. I could literally see his teeth! I sprinted for the escort boat, which at this point was ~150 ft away, yelling "shark!" with every breath. These were the most terrifying 30 seconds of my life!
Tiger sharks are fierce creatures. Adults are over 10 ft long and they weight as much as a car. According to the International Shark Attack File, tiger sharks are responsible for more attacks than any other species other than white sharks. And they'll eat anything: car tires, license plates, even other sharks. 
I had so much adrenaline pumping by the time I got to the boat that I scratched both my knees and my elbow on the non-slip surface just trying to climb on - and I didn't even notice, nor did I care. I was just thankful to be out of that water! It might as well have been fire as far as I was concerned! We radioed the other teams to let them know that we had seen a tiger shark and the teams nearby us all popped out of the water as well. I don't know whether any of the other teams called off their swim, or if anyone else had a close encounter, but my day was done. There's no way I was going back in shark-infested waters while bleeding! Norm advised against it as well, saying "you're lucky you didn't get tagged! Trust me, don't get back in that water with those cuts." Honestly though, even if I wasn't bleeding, I don't think I would have gotten back in. Here's me on the escort boat back to Maui:
I was super let-down that I didn't finish the swim, but looking back on it, it could have been a lot worse! Maybe I've become a bit too reckless. This experience makes me realize that crazy and fun challenges are great, but not worth dying for. Next time I'll pick a challenge that's a lot safer…and far away from any sharks.